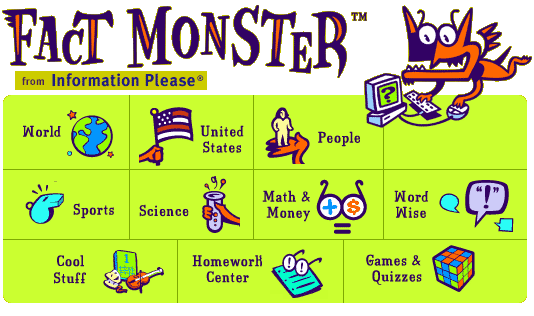 What will I find on the Fact Monster site?
Fact Monster
is an ideal reference site for kids ages 8-14 that provides entertainment and educational resources. It combines the contents of an
encyclopedia
, a
dictionary
, an
atlas
, and several
almanacs
loaded with statistics, facts, and historical records. A single search engine allows you to search all these sources at once.
What sources are featured on Fact Monster?
In addition to an electronic database that is continuously updated and expanded, the Fact Monster site includes information from the following reference works:
The TIME for Kids Almanac®, edited by Beth Rowen of Fact Monster and published by Time Inc.
Selected content from The TIME Almanac, with Information Please®, edited by Borgna Brunner of Information Please and published by Time Inc.
The Columbia Electronic Encyclopedia, published by Columbia University Press.
Infoplease Dictionary, based on the Random House Webster's Unabridged Dictionary
The Infoplease Atlas, which includes several hundred maps from Magellan Geographix.
Factmonster is an ideal resource for general classroom information about people and places around the world. Access it here.