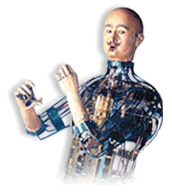 The Devices of Wonder Web site explores the ancestors of modern cinema, cyborgs, and other optical devices. The Web site was created in conjunction with an exhibition, which presented the parlor games, natural wonders, moving image devices, and scientific instruments that have entertained and educated humans for more than four centuries.

The Web site allows visitors to experience some of these inventions first hand, offering a unique opportunity to operate objects that are too rare and fragile to be handled.

The objects are fun to play with, and they also teach us about our social, scientific, and visual history. Below are some ideas for how you can explore the exhibition themes with children.

After you visit the Devices of Wonder Web site, you can return here for some teaching ideas.