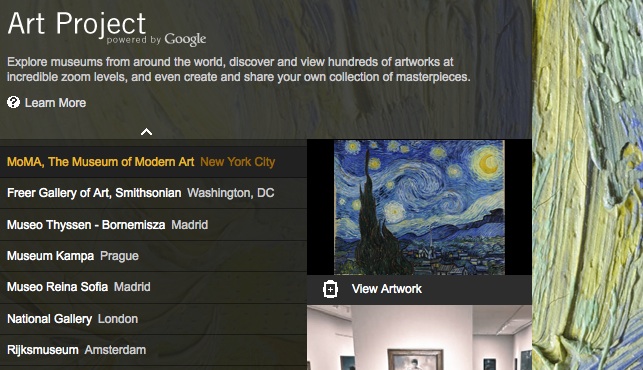 Google Art Project is an online platform through which the public can access high-resolution images of artworks housed in the initiative's partner museums. The project was launched in 2011, in cooperation with 17 international museums, including the Tate Gallery, London; the Metropolitan Museum of Art, New York City; and the Uffizi, Florence.
The platform enables students to virtually tour partner museums' galleries, explore physical and contextual information provided about artworks, and compile their own virtual collection. The "walk-through" feature of the project uses Google's Street View technology. The virtual images of artworks were reproduced at extremely high quality, and each partner museum selected one artwork to be captured as a Gigapixel image (with over 1 billion pixels).
With great resources for educators there is literally no limit to what can be done with this in the classroom.
Google art Project will never substitute a trip to the Louvre in Paris but it certainly will make you far more appreciative and understanding of what is in front of you if you are lucky enough to get there in person.
Below is a video that critiques a famous painting from the 1870's that you could use with students in your history, literacy or art class to great use.