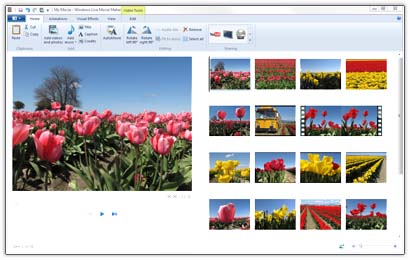 What is it?Windows Live Movie Maker is the next generation of Windows Movie Maker. A basic video editing program that has shipped with Windows Since Windows XP. Windows Live Movie Maker is a massive overhaul to it's predecessor and has the simplest and easiest to use interface of any video editing package I have ever used. And I have used quite a few such as Adobe Premiere, Final Cut Pro, Sony Vegas and iMovie. Users of these programs might be a little disappointed with the simplicity of limitations of Windows Live Movie Maker but this program is clearly aimed at mums and dads who want to put together a family holiday video in minutes with some music, photos, credits and titles and then maybe post it straight to Youtube I have to say that Windows Live Movie Maker is the easiest package available for this audience. And of Course it is totally free.
How can I use it in my teaching and learning? Well Kids of nearly any age can use this Iand have had Prep students use the older and more complicated version on the Smartboard. with success - So if you have a Flip camera or something similar it is not to much to ask your students to put together a visual text, after they have done some planning through a script, storyboard or created interview questions. My school is beginning a TV station to share news around the school and a $200 camera and a free copy of this program can and will be a great help in making this accessible to all students and staff.
What level of expertise is required? Very little - Import, Drag and Drop your media onto a timeline throw in a few effects and publish your movie to Hard Drive, DVD or the Web. Doesn't really get much easier than this. If you are a bit more advanced at video editing and use either the Adobe, Sony or Mac offerings I would recommend sticking with what you know as this might be a little too basic for you. For the Novice looking to get into video editing this is simply the best starting point available.
Did I forget to mention that this program is totally free and available here.